So, you've decided to modernise your company processes with electronic signatures and digital document management. But where do you start? While overhauling existing processes and adopting digital technology is essential to futureproofing your business, it's certainly no easy feat. Yet finding the right digital supplier can make a world of difference, simplifying the process and empowering your company and employees to embrace digital changes that can transform your business for the better.  
With the e-signature and digital document market expanding rapidly amidst a boom in remote and home working, finding the right provider– at the best price- can be difficult. Every business is different, and your e-signature needs will vary depending on factors that are unique to your company.  
So, what should you consider?
5 Things to Consider Before Choosing an E-Signature Provider
1.Your b
usiness 
size
Your business size will help to determine the level of service you need from your e-signature provider. Whether you're a small, medium or enterprise-level company, your business stands to benefit enormously from going digital and ditching paper processes. Indeed, many suppliers will have different packages catering to different business sizes, with features and user capacity varying on price.  Finding the right deal for your business size can help you get the most from your e-signature provider, at a price that suits you and your budget.  
2.Your business 
type
Your e-signature needs will no doubt depend on what kind of business you operate. While some businesses may only need a legally binding e-signature and user-friendly format, others, particularly in the financial or legal sectors, may require additional services such as integrated ID verification, two-factor authentication or payment capture. Establishing the service your business and industry needs will help you to find the right supplier and price point.  
3.Signature requirements
Assessing the volume and frequency of your e-signature usage can help to determine the right package for your business. Whether you need to collect signatures on a daily, weekly or monthly basis will help to establish what kind of service level and price point is right for your business. Some providers often limit the number of documents you can send per month, depending on your subscription. If you're sending and receiving bulk documentation, an unlimited subscription could be the most cost-effective option for your business.  
4.C
lient
 base
As signature collection requires two parties, thinking about the needs of your client base is an absolute must. A user friendly and accessible platform should be the absolute minimum but beyond that, you may need to consider additional requirements. Do you often deal with international clients? An e-signature that can work with multiple languages means that you can carry out business in their mother tongue, providing a more bespoke service and reducing document turnaround times.  
5.Integration capabilities
If you're switching to e-signatures and digital documents as part of a wider digital strategy, you need to consider the integration capabilities of your e-signature software. Is an API available, for example? Can it be integrated with other applications your business uses? These are all things you need to consider before you choose your electronic signature provider and your service level– some e-signatures are more capable of integration than others, while some suppliers charge extra for an API. 
Now you know more about what your business requires, let's take a closer look at some of the biggest e-signature providers on the market to see how they compare.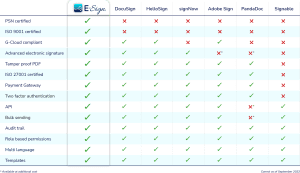 The Results
:
E-
Sign Is the Only PSN 
Certified
 E-Signature on the Market
While all the providers above are fairly equally matched, E-Sign stands out as the only PSN certified provider on the market.   
The Public Service Network is used to unify all public sector organisations, allowing them to work together and share resources, whilst increasing efficiency and reducing expenditure. For all its virtues, however, this can leave the network vulnerable; the security of one PSN user can affect the security of all other users and even the network itself.  
Given the scale and importance of this network, these vulnerabilities need to be mitigated and minimised. This is where the PSN compliancy process steps in. In line with this 'walled garden' approach, any provider wishing to supply the Public Service Network must hold a valid PSN compliance certificate to indicate that their security provision is up to scratch and that they tick all the boxes required to safeguard the Public Service Network   
To receive PSN certification, a supplier must apply to the Government, providing information about the policies, processes and procedures in place to ensure they meet security requirements in these five key areas:  
Vulnerability management (patch management) 
Secure configuration 
Physical security 
Protective monitoring and intrusion detection 
Security incident response 
At E-Sign, we're pleased to say that our electronic signature meets all these standards and more – and that we're the only supplier on the market that does. Our PSN certification reflects our dedication to providing first-class security for all our solutions, from our e-signatures to our digital document service. The security of both your data and that of your clients is at the heart of everything we do here at E-Sign. Whether you're a public sector organisation or a private business, our security standard is second to none. If you're looking for an electronic signature you can count on, choose a PSN certified supplier. When the experts trust us, you can be sure that your security is in the best possible hands.  
Still not convinced? Why not try our free 14-day trial and discover the benefits of E-Sign for yourself.  
E-Sign is a leading provider of digital transaction management solutions, supplying professional services including Electronic Signatures, Web Forms, ID Checker, Verification Tools, Personalised Emails, API and Payment Processing to businesses of all sizes across the UK. 
To find out more about our E-Sign solutions and how they could transform your business, get in touch with us today.