With the adoption of eSignatures on the rise, a common question you might have is, are they are safe? Put simply, yes they are, but let's take a closer look at how.
eSignatures vs Wet Signatures
As it happens, eSignatures are much more secure than wet signatures. Wet signatures can be easily forged, copied, and tampered with, providing no evidence of the date or time of signature, and if the signer of the document is really who they say they are. Comparatively, eSignatures use digital certificates, encryption, and tamper-evident features, as well as other layers of security protocols to verify the signers identify and validate the document.
Security Protocols
Digital Certificate
A digital certificate is used to prove the authenticity of a server, device or user, ensuring that only trusted devices can connect to an organisations network. This information is verified by a trusted third-party known as a certificate authority (CA). The CA verifies the identity of the signer and issues a digital certificate that contains the signer's public key. This public key can then be used to verify the authenticity of the signature.
Encryption
Encryption is a process that is used to scramble data so that it can only be read by the person or organisation that has the decryption key. When a document is signed electronically, the signature is encrypted using the signer's private key. This ensures that the signature can only be verified by someone who has the signer's public key. Multiple layers of protection are installed within an eSignature platform, including encryption to ensure that your important data is secure.
Tamper-Evident Features
Tamper-evident features allow the signer and the recipient to detect any unauthorised changes to the document after it has been signed. This helps to ensure that the document is not tampered with after it has been signed, providing peace of mind that transactions are protected from subsequent changes that could be used for malicious or fraudulent purposes. Esignature providers will also provide an advanced audit trial, to track and record your document transaction at every stage.
For situations where additional levels of signature validity are required, some providers offer two additional levels of eSignature that comply with the European Union's (EU) eDIAS requirements.
Advanced: requires a higher level of security, identity verification and authentication to establish a link to the signatory; and includes a certificate-based digital ID issued by a trusted service provider.
Qualified: an even more secure version of an advanced eSignature that utilises a 'secure signature creation device' and is deemed a legal equivalent to a wet signature in the EU.
How do eSignatures Work?
An eSignature or electronic signature is a legal way to get consent or approval on electronic documents or forms. It replaces the slower, paper-based signature in virtually any process.
Sending a document:
Upload a document to the eSignature platform.
Enter signer details (name and email address).
Insert fields onto the document such as signature and date stamp.
Confirm and send.
Signing a document:
Receive an email with a link to open the document.
Review the document.
Sign the document by clicking on the signature field.
All parties will receive a signed copy, which can then be downloaded.
Click here, to see the step by step process of sending and signing a document using eSign.
eSign's Security First Approach
With many eSignature providers on the market, is important to look at the security features provided. See below some of eSign's security features and standards to give you peace of mind when you choose us as your eSignature provider.
Your Data is Hosted in the UK
Our network infrastructure uses energy efficient servers housed in independent data centres. We host data in the UK – meaning that your data isn't being sent to servers in other parts of the world during transactions. This is especially important to organisations such as the NHS, who trust us to send their data securely.
Data Centre Security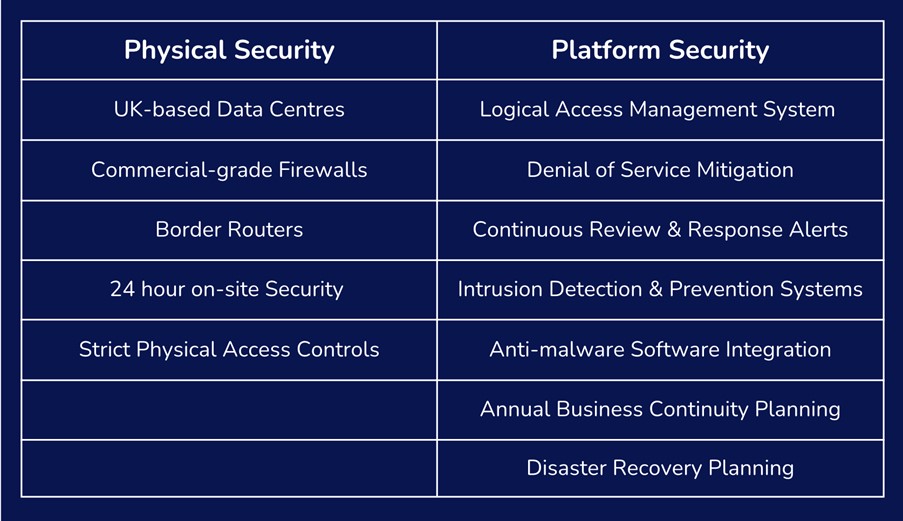 The Only Trusted Provider on the Public Service Network
eSign is the only eSignature provider trusted on the Public Service Network. The PSN is the UK Government's high security network, which enables public sector organisations to work together, reduce duplication and share resources. Being on the PSN means that we have met strict regulatory requirements and our services have the highest security standards.
ISO 27001 Certified
ISO 27001 is the international standard that lays out the specifications for implementing an information security management system. eSign first obtained its ISO 27001 certification for electronic signature and document management in 2014 and has been re-certified every year since.
GDPR Compliant
We are fully GDPR compliant, and all the data is stored in highly secure servers with regular backups. This ensures that all electronic signatures are fully compliant with all regulatory requirements. We are accredited to ISO 27001, ISO 9001, PSN and Cyber essentials standards, offering the highest level of data protection.
Security Protocols
We employ various security protocols such as Secure Socket Layer (SSL) and Transport Layer Security (TLS) to encrypt data and protect it from cyber-attacks. You can benefit from a range of security features, including 2-factor authentication, single sign-on, and additional ID verification. Your documents remain secure with password protection.
Why Choose eSign for your eSignature solution?
It's also important to consider an eSignature provider's values, customer support, innovation, trustworthiness and awards so that you can find a provider that truly aligns with your business needs and values.
eSign is trusted by nations, governments, businesses, healthcare and education providers globally, with a remarkable track record of achievements and contributions.
We offer a comprehensive solution that excels in various key areas, ensuring a seamless and secure experience for your document signing needs. Here are some compelling reasons to choose eSign:
User Experience
Our commitment to an exceptional user experience is evident through continuous updates, new features, and improvements. We're soon launching a brand-new user interface to modernise our platform and make it more user-friendly.
We actively listen to customer feedback and adapt our platform accordingly. You'll find an extensive library of user guides and videos to assist you in your eSignature process. Our pride lies in providing an easy-to-use platform that doesn't require technical expertise.
Integration
We know how important it is that your business applications work together. That's why we've made it possible for eSign to be able to connect with any other software, creating a better customer experience and both time and cost efficiencies.
Seamlessly integrate with leading platforms such as Microsoft Power Automate, Google, Salesforce, and HubSpot. This flexibility allows you to create customised workflows and automate your existing processes. You can explore our connectors to see how eSign can streamline your operations here.
Compliance & Legal Standards
Our dedication to legal standards encompasses both domestic and international regulations. We stay up-to-date with evolving legislation, making certain that our platform remains compliant with the latest legal mandates.
Our approach safeguards your documents from potential legal challenges as well as ensuring that you can confidently conduct business globally. When you choose eSign, you're selecting a partner that places the highest emphasis on compliance and legal standards.
Customer Support             
Our customer support is second to none, with dedicated account managers ready to assist you. Feel free to call us to speak with a digital advisor or email for more information, our team are always happy to help.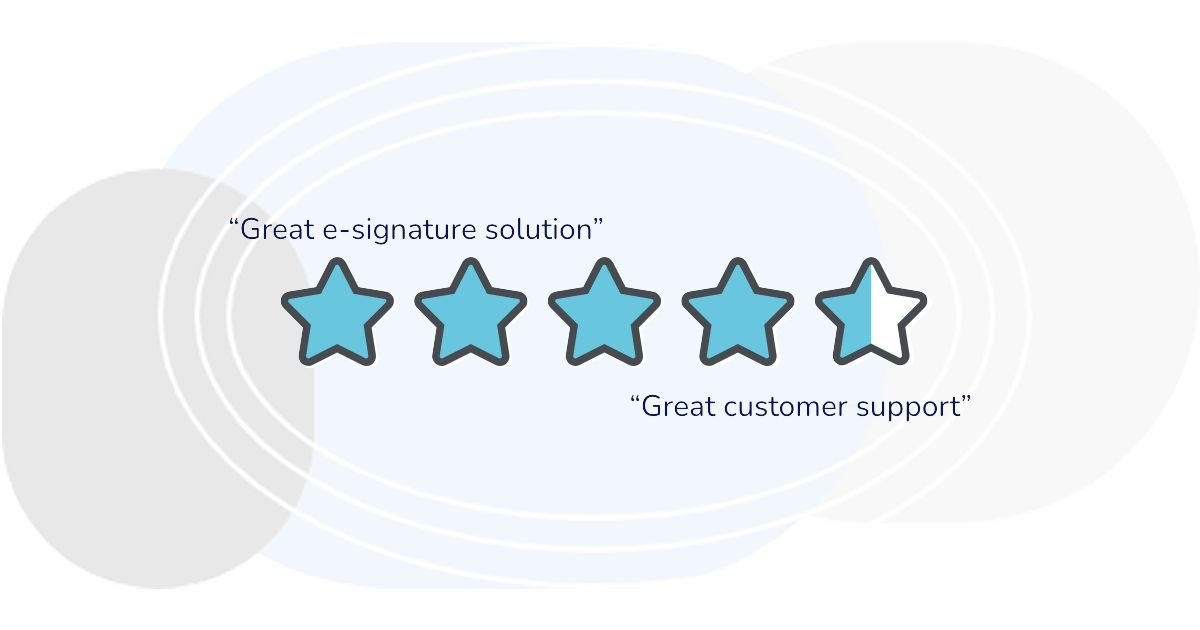 We also have a 4.3 rating on Trustpilot, which highlights our commitment and dedication to providing an unmatched customer experience.
In conclusion, electronic signatures are safe and secure to use. We are committed to providing our clients with the highest level of security and compliance, so you can feel confident in your use of electronic signatures to create efficiencies across your organisation. That's why we call our approach "secure thinking."