At E-Sign, we usually discuss the benefits of electronic signatures, however today we will be discussing something similar but distinct in their own right: electronic seals.
Historically, wax was used to physically seal a document. Fast forward to today and seals became stamps that embossed or printed company info on a document. Now that documents have gone digital, the corporate seal is getting another update of its own with the introduction of the digital seal.
In this blog, we'll be answering all your questions on electronic seals, as well as discussing the uses and benefits for your business.
What is an Electronic Seal?
A seal on a document certifies the integrity and origin of documents. An electronic seal, or e-seal, is like a digital version of a seal stamped onto paper documents. It still serves the same function; it's simply been upgraded for use on digital documents.
The eIDAS Regulation defines an electronic seal as "data in electronic form, which is attached to or logically associated with other data in electronic form to ensure the latter's origin and integrity." In that sense, it's quite similar to an electronic signature.
Unlike a signature, a seal is only associated with a legal person (organisations, companies, institutions) or entity, rather than a 'natural person'. That's a lot of legal jargon though, so it helps to think of a digital seal as a fingerprint for a company, rather than for one specific person.
What Are Electronic Seals Used For?
Electronic seals are used in place of physical stamps that certify and protect the origin of digital or electronic documents or data. When a document has an electronic seal, it essentially guarantees authenticity and integrity. Once sealed, the contents of a document cannot be altered.
This offers signers peace of mind that the document cannot be modified or falsified, making electronic seals perfect for high-value transactions and legal agreements. Electronic seals can be placed on any documents that require certifying, especially in cases where assurance about the document's authenticity and integrity is required.  This covers a whole host of uses and industries from financial and legal documents all the way to sensitive health data.
Are There Different Types of E-Seals?
Like e-signatures, there's more than one form of electronic seal. There's an advance e-seal and qualified e-seal.  Here's what the eIDAS has to say:
'Advanced electronic seal' means an electronic seal, which meets the requirements set out in Article 36;
It is uniquely linked to the creator of the seal.
It is capable of identifying the creator of the seal.
It is created using electronic seal creation data that the creator of the seal can, with a high level of confidence under its control, use for electronic seal creation.
It is linked to the data to which it relates in such a way that any subsequent change in the data is detectable.
'Qualified electronic seal' means an advanced electronic seal, which is created by a qualified electronic seal creation device, and that is based on a qualified certificate for electronic seal.
As with e-signatures, the qualified electronic signature provides greater assurance about who created the document. This means that the seal is supported by both a qualified certificated and a qualified seal creation device.
What Is the Difference Between an Electronic Signature and an Electronic Seal?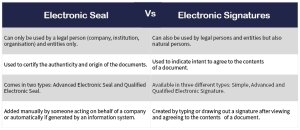 It's important to remember that electronic seals are not e-signatures; they only guarantee the authenticity and integrity of the document.
A document requiring a signature will still need to be e-signed using an electronic or digital signature. An e-seal can then be added for extra peace of mind for your business and your signers.
What Are the Benefits of an Electronic Seal?
The electronic or digital seal offers many benefits to businesses, which include the following:
Verify Authenticity and Integrity
Electronic seals, especially Qualified Electronic Seals, offer peace of mind that your documents are authentic. Once the document has been sealed, the contents cannot be tampered with. This protects both your signers and business from falsified or modified documents which could be used for fraudulent or malicious activity.
Keep Your Documents Digital
When all your documents are digital, using a traditional seal simply adds to your workload. It means you have to print, stamp, and scan your documents just to get the seal on there. Using a digital seal means you can keep your documents digital and eliminates the need for printing.
Streamline and Save Time
In a digital world, paper documents are no longer the most efficient way of doing business. Adopting a digital seal allows you to streamline your processes and save time on administration. Eliminate unnecessary steps from your workflow and benefit from increased productivity and efficiency.
Reduce Paper Consumption
By keeping your documents digital, you not only save time but also reduce paper consumption across your business. This allows you not only to reduce spending on paper, stationery, and document storage but also to reduce the waste and carbon footprint your business generates.
Prepare for a Digital future
As the world becomes increasingly digital, your business needs to stay with the times. If not, you could quickly find yourself falling behind your competitors in all those key areas: productivity, profitability, customer experience and employee satisfaction. Adopting a digital seal allows you to move away from paper and embrace a digital future.
Introducing Our New Electronic Seal
Here at E-Sign, we're excited to announce that you can now add a electronic seal to your documents. E-Sign users on Business Pro or Enterprise plans can now digitally seal the documents they send from E-Sign and add a visual representation of this onto your document.  Behind the scenes, your digital seal will be added to your signature properties and is characterised by a digital certificate.
How to Add an Electronic Seal With E-Sign
Personalise your Seal
With E-Sign, you can add a personalised digital seal to your documents. Simply upload your chosen image in your account settings. Keep business branding consistent on your documents by personalising your seal image.
E-Sign as Normal
As we've established, E-signatures and electronic seals are different. You'll still need to add your digital signature as normal to sign your document. Drag and drop your e-signature field and type/draw your name out as usual.
Drag and Drop onto Documents
A digital seal can only be applied when only the author is signing the document or in a co-sign flow. Once you've uploaded your image, you can then drag and drop the seal image placeholder onto the document to add your seal.
Are You Looking for an E-Signature That Offers More?
For an e-signature that offers more than just a name on a document, choose E-Sign today. Our highly secure, user-friendly digital signature is supported by a complete digital toolbox including ID checker, web forms, verification tools, payment processing and now our digital seal.
If you'd like to try E-Sign for free, sign up for our 14-day free trial. Join 1000s of businesses and public sector organisations today. With no payment details required, no downloads and no software to install, you can experience the power of E-Sign without hassle or risk.
E-Sign is a leading provider of digital transaction management solutions, supplying professional services including Electronic Signatures, Web Forms, ID Checker, Verification Tools, Personalised Emails, API, and Payment Processing to businesses of all sizes across the UK.
To find out more about our E-Sign solutions and how they could transform your business, get in touch with us today.