Messages like 'Error' or 'Invalid' are not helpful. Instead use descriptive errors like 'You cannot enter a date in the future –please enter a past date'.
Review before submission
Users should be able to review input before submitting to legally binding, financial or important forms or contracts, this is
best done by redirecting to a review page before submission.
Element behaviour
Elements should behave the way their tags define, e.g. redirecting from a radio button or opening a menu with a video
should be avoided.
Tablets and mobile devices
Users should be able to navigate pages with one finger in any orientation without the use of complex motions.
Keyboard Navigation
The order of a webpage should make sense when tabbing, the user should be able to navigate around the page with a keyboard.
Nothing unexpected should happen whilst tabbing through a webpage, e.g., opening a new webpage or menu.
All forms should be accessible without a mouse.
Users should be able to skip to a page's main content.
Zoom/Magnification
The webpage should still have full functionality whilst the user has the page magnified.
Text resizing
The web page and its content should still function when text has been enlarged.

Colour contrast
Text to background contrast should be at least 4.5:1.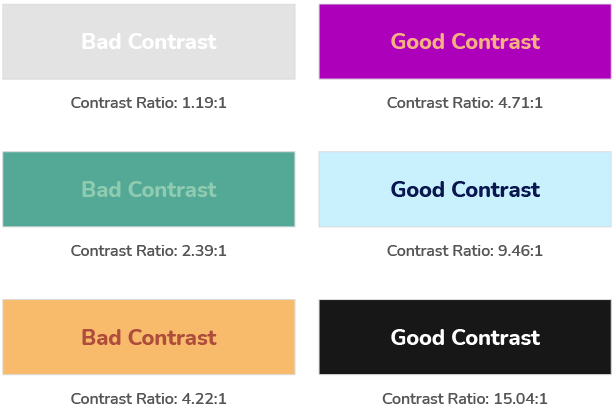 Animated Content
Things like scrolling carousels or blinking images can be very distracting for people with cognitive disabilities.The user
should be able to disable them.

Auto play content
Content that is looped or longer than 3 seconds should have the option to be stopped or
disabled.

HTML Content
Where possible elements should use tags that correctly describe their content e.g. list
tags should use list tags etc.